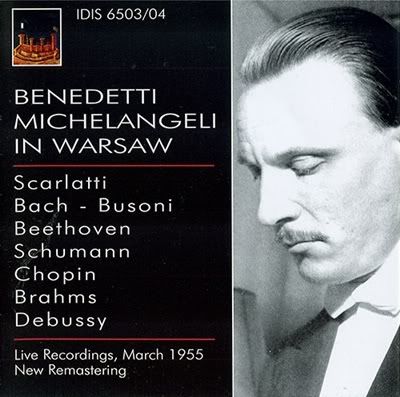 Benedetti Michelangeli in Warsaw (FLAC) (2006)
EAC Rip | Flac(image) - cue - log | 345 MB | 2 CD | Full Scans
Genre: Classical
Tracklisting:
CD 1
Domenico Scarlatti
[1] Sonata in B minor [01'58]
[2] Sonata in C minor [03'02]
[3] Sonata in D minor [03'17]
[4] Sonata in A major [02'14]
Johann Sebastian Bach (arr. Busoni)
[5] Ciaccona [14'01]
Sonata no. 3 in C major op. 2 no. 3
[6] Allegro con brio [10'32]
[7] Adagio [07'22]
[8] Scherzo. Allegro [03'01]
[9] Allegro assai [05'07]
Johannes Brahms
[10] Variations on a theme by Paganini op. 35 [16'51]
CD 2
Robert Schumann
Concerto in A minor for piano & orchestra, op. 56
[1] Allegro affettuoso [15'19]
[2] Intermezzo. Andantino grazioso [05'07]
[3] Allegro vivace [11'25]
Orchestra Philharmonia, Warsaw
Witold Rowicki, conductor
Robert Schumann
Faschingssschwank aus Wien op. 26
[4] Allegro [09'47]
[5] Romanze [02'56]
[6] Scherzino [02'26]
[7] Intermezzo [02'22]
[8] Finale [05'13]
Fryderyc Chopin
[9] Valzer no. 17 in E flat major op. posth. [02'36]
Claude Debussy
[10] Hommege Р° Rameau [07'07]
We are proud to launch our new website at
NewMp3Releases.Com
. And it is also the music website, we hope you will come down and visit us.
Free register and download UseNet downloader, then you can free download from UseNet. You can download 300GB musics and anything for FREE. Free Download
"Benedetti Michelangeli in Warsaw (FLAC) (2006)"
from Usenet!