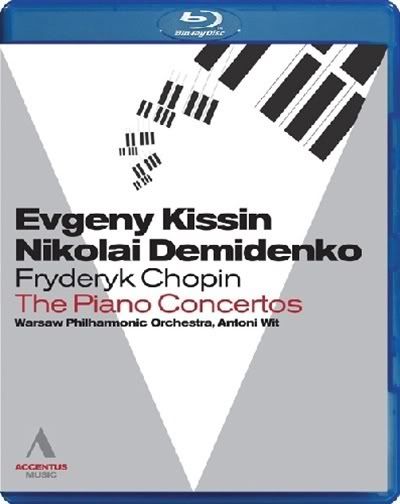 Chopin: Piano Concertos Warsaw - Antoni Wit, Nikolai Demidenko, Evgeny Kissin 720p 2010
01:31:02 | 1280 x 720 | X264 | DTS - 1536kbps | 4.33 GB
Genre: Classical - Concert
To mark the bicentenary of Chopin's birth, two leading Russian pianists tackle the great Romantic composer's two piano concertos: Evgeny Kissin plays the F minor Concerto op. 21, a key work in Chopin's output, while Nikolai Demidenko performs the E minor Concerto op. 11, a virtuoso display vehicle of the first rank. They are accompanied by the Warsaw Philharmonic under the direction of Antoni Wit. Enthusiastically acclaimed by the audience at Warsaw's Philharmonic Hall on 27 February 2010, this memorable concert has been captured in first-class sound and picture quality.
Piano Concerto No. 1 in E minor, Op. 11. Mazurka in A minor, Op. 17 No. 4. (Nikolai Demidenko)
Piano Concerto No. 2 in F minor, Op. 21. Etude in C minor, Op. 10 No. 12. Waltz in E minor, Op. Posth. (Evgeny Kissin).
SCREENSHOTS
Download links:(recovery record 3%)
We are proud to launch our new website at
NewMp3Releases.Com
. And it is also the music website, we hope you will come down and visit us.
Free register and download UseNet downloader, then you can free download from UseNet. You can download 300GB musics and anything for FREE. Free Download
"Chopin: Piano Concertos Warsaw - Antoni Wit, Nikolai Demidenko, Evgeny Kissin 720p 2010"
from Usenet!