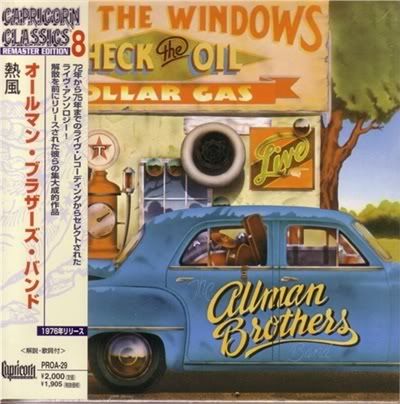 The Allman Brothers Band - Wipe the Windows, Check the Oil, Dollar Gas (Japanese Press 1998) (FLAC)
EAC Rip | Flac(tracks) - cue - log | 475 MB | 1 CD | Full Scans
Genre: Blues
Tracklisting:
1. Introduction by Bill Graham – 1:05
2. "Wasted Words" (Allman) – 5:10
3. "Southbound" (Betts) – 6:03
4. "Ramblin' Man" (Betts) – 7:09
5. "In Memory of Elizabeth Reed" (Betts) – 17:19
6. "Ain't Wastin' Time No More" (Allman) – 5:41
7. "Come and Go Blues" (Allman) – 5:05
8. "Can't Lose What You Never Had" (Waters) – 6:43
9. "Don't Want You No More" (Davis, Hardin) – 2:48
10. "It's Not My Cross to Bear" (Allman) – 5:23
11. "Jessica" (Betts) – 9:05
Tracks 1 - 5 recorded at Winterland, San Francisco, California, September 26, 1973.
Track 6 recorded at The Warehouse, New Orleans, Louisiana, December 31, 1972.
Track 7 recorded at the Summer Jam at Watkins Glen, New York, July 28, 1973.
Tracks 8 - 10 recorded at the Bakersfield Civic Auditorium, Bakersfield, California, October 22, 1975.
Track 11 recorded at the Oakland Coliseum, Oakland, California, October 24, 1975.
We are proud to launch our new website at
NewMp3Releases.Com
. And it is also the music website, we hope you will come down and visit us.
Free register and download UseNet downloader, then you can free download from UseNet. You can download 300GB musics and anything for FREE. Free Download
"The Allman Brothers Band - Wipe the Windows, Check the Oil, Dollar Gas (Japanese Press 1998) (FLAC)"
from Usenet!