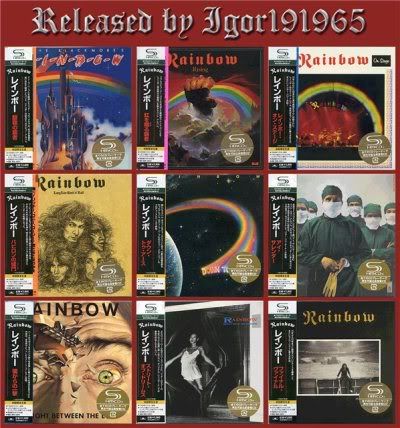 Rainbow - 10 SHM-CD (Japanese Press 2008) (Limited Release)
Genre: Hard Rock | 10 CD | Release: 2008 | EAC Rip | FLAC (Img + Cue + Log + Cover) | 2,89 GB
Tracklist

Ritchie Blackmore's Rainbow (SHM-CD Japanese UICY-93618)
01. Man On The Silver Mountain [0:04:41.37]
02. Self Portrait [0:03:16.60]
03. Black Sheep Of The Family [0:03:22.23]
04. Catch The Rainbow [0:06:39.25]
05. Snake Charmer [0:04:32.52]
06. The Temple Of The King [0:04:44.68]
07. If You Don't Like Rock �N' Roll [0:02:37.55]
08. Sixteenth Century Greensleeves [0:03:31.30]
09. Still I'm Sad [0:03:53.25]
Rising (SHM-CD Japanese UICY-93619)
01. Tarot Woman [0:06:04.07]
02. Run With The Wolf [0:03:43.08]
03. Starstruck [0:04:08.30]
04. Do You Close Your Eyes [0:03:02.30]
05. Stargazer [0:08:32.05]
06. A Light In The Black [0:08:11.50]
On Stage (SHM-CD Japanese UICY-93620)
01. Kill The King [0:05:31.50]
02. Man On The Silver Mountain \ Blues \ Starstruck [0:11:16.35]
03. Catch The Rainbow [0:15:37.50]
04. Mistreated [0:13:08.70]
05. Sixteenth Century Greensleeves [0:07:37.60]
06. Still I'm Sad [0:11:01.10]
Long Live Rock �n' Roll (SHM-CD Japanese UICY-93621)
01. Long Live Rock �n' Roll [0:04:24.72]
02. Lady Of The Lake [0:03:38.40]
03. L.A. Connection [0:05:02.28]
04. Gates Of Babylon [0:06:51.27]
05. Kill The King [0:04:30.38]
06. The Shed (Subtle) [0:04:47.62]
07. Sensitive To Light [0:03:07.73]
08. Rainbow Eyes [0:07:26.60]
Down To Earth (SHM-CD Japanese UICY-93622)
01. All Night Long [0:03:53.62]
02. Eyes Of The World [0:06:43.13]
03. No Time To Lose [0:03:45.37]
04. Makin' Love [0:04:38.55]
05. Since You Been Gone [0:03:20.70]
06. Love's No Friend [0:04:55.28]
07. Danger Zone [0:04:32.07]
08. Lost In Hollywood [0:04:51.53]
Difficult To Cure (SHM-CD Japanese UICY-93623)
01. I Surrender [0:04:05.15]
02. Spotlight Kid [0:04:57.62]
03. No Release [0:05:37.58]
04. Magic [0:04:09.20]
05. Vielleicht Das Nachste Mal (Maybe Next Time) [0:03:20.45]
06. Can't Happen Here [0:05:00.20]
07. Freedom Fighter [0:04:24.62]
08. Midtown Tunnel Vision [0:04:35.00]
09. Difficult To Cure (Beethoven's Ninth) [0:05:57.73]
Straight Between The Eyes (SHM-CD Japanese UICY-93624)
01. Death Alley Driver [0:04:45.50]
02. Stone Cold [0:05:19.32]
03. Bring On The Night (Dream Chaser) [0:04:08.10]
04. Tite Squeeze [0:03:15.73]
05. Tearin' Out My Heart [0:04:05.52]
06. Power [0:04:27.38]
07. Miss Mistreated [0:04:30.05]
08. Rock Fever [0:03:52.65]
09. Eyes Of Fire [0:06:39.50]
Bent Out Of Shape (SHM-CD Japanese UICY-93625)
01. Stranded [0:04:30.32]
02. Can't Let You Go [0:04:22.10]
03. Fool For The Night [0:04:04.60]
04. Fire Dance [0:04:30.50]
05. Anybody There [0:02:40.48]
06. Desperate Heart [0:04:36.67]
07. Street Of Dreams [0:04:26.50]
08. Drinking With The Devil [0:03:44.55]
09. Snowman [0:04:33.25]
10. Make Your Move [0:05:25.20]
Rainbow – Finyl Vinyl (SHM-CD Japanese UICY-93626/7) 2 Disc
01. Spotlight Kid [0:06:06.67]
02. I Surrender [0:05:43.50]
03. Miss Mistreated [0:04:21.28]
04. Street Of Dreams [0:04:57.55]
05. Jealous Lover [0:03:12.72]
06. Can't Happen Here [0:04:16.40]
07. Tearin' Out My Heart [0:08:08.25]
08. Since You Been Gone [0:03:47.23]
09. Bad Girl [0:04:51.70]
Tracklist Disc 2:
01. Difficult To Cure [0:11:18.70]
02. Stone Cold [0:04:28.10]
03. Power [0:04:28.70]
04. Man On The Silver Mountain [0:08:19.10]
05. Long Live Rock �N' Roll [0:07:11.22]
06. Weiss Heim [0:05:12.38]
We are proud to launch our new website at
NewMp3Releases.Com
. And it is also the music website, we hope you will come down and visit us.
Free register and download UseNet downloader, then you can free download from UseNet. You can download 300GB musics and anything for FREE. Free Download
"Rainbow - 10 SHM-CD (Japanese Press 2008) (Limited Release)"
from Usenet!